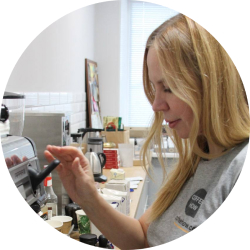 Coffee Gear Questions And Answers
You need a way to grind the coffee, heat the water (unless you're making cold brew), and a device to hold the grounds during the extraction process. Regardless of the brew method, start with a quality burr grinder. We also recommend a scale to accurately measure your coffee and water. Then you need your coffee brewer. Depending on the type of brewer, you may also need a kettle.
---
The most obvious piece of coffee equipment a barista needs is an espresso maker. Other helpful items include a burr grinder, scale, and tamper. You may also want a milk frothing pitcher. If your espresso machine doesn't include a frothing wand, you'll need a milk frother.
---
Do you want to drink good coffee? A quality grinder with stainless-steel or ceramic burrs will produce a uniform grind. Also, a high-quality grinder allows you to precisely dial in the correct grind size. Thus, a quality coffee grinder allows you to consistently brew coffee that is not over- or under- extracted.
---
The categories of coffee brewing include immersion, filtration, and pressure extraction. Cold brew, French press, and Turkish coffee all use immersion extraction. Automatic drip machines and pour-over brewers use paper filters, and the hot water percolates through the grinds. An espresso machine uses pressure to force hot water through very finely ground coffee. The AeroPress uses a combination of filtration and pressure.
---
Espresso is a concentrated shot of coffee. Besides the price, the key difference between an espresso machine and a regular coffee maker is the ability to create pressure. To brew a proper espresso, the machine must be able to exert at least nine bars of pressure. Most quality espresso machines list 15 bars of pressure or more. Some high-end machines allow you to control how much pressure is exerted.
---